It's easy to think that print is gradually becoming obsolete with the digital transformation buzz and technological advancements. However, studies have shown that printed material is still in demand, and companies spend millions of dollars on printing each year.
The truth is that most businesses do not understand the motives behind everything they print. It could be because it's an old habit or a determined part of a process. Sometimes it's because a team member just likes to see information in printed form.
Getting the visibility and data on who prints the most, why, and where they do it will illustrate the motives behind the existing printing habits. Additionally, it will show where there is a need to change processes to reduce print, cost, and environmental impact.
Companies should look for ways to optimize their printing processes in today's world, which is becoming increasingly digital. We have gathered four main points you should consider and review to help your company develop a strategy to reduce the amount of print.
Let's review the who, why, and where of print: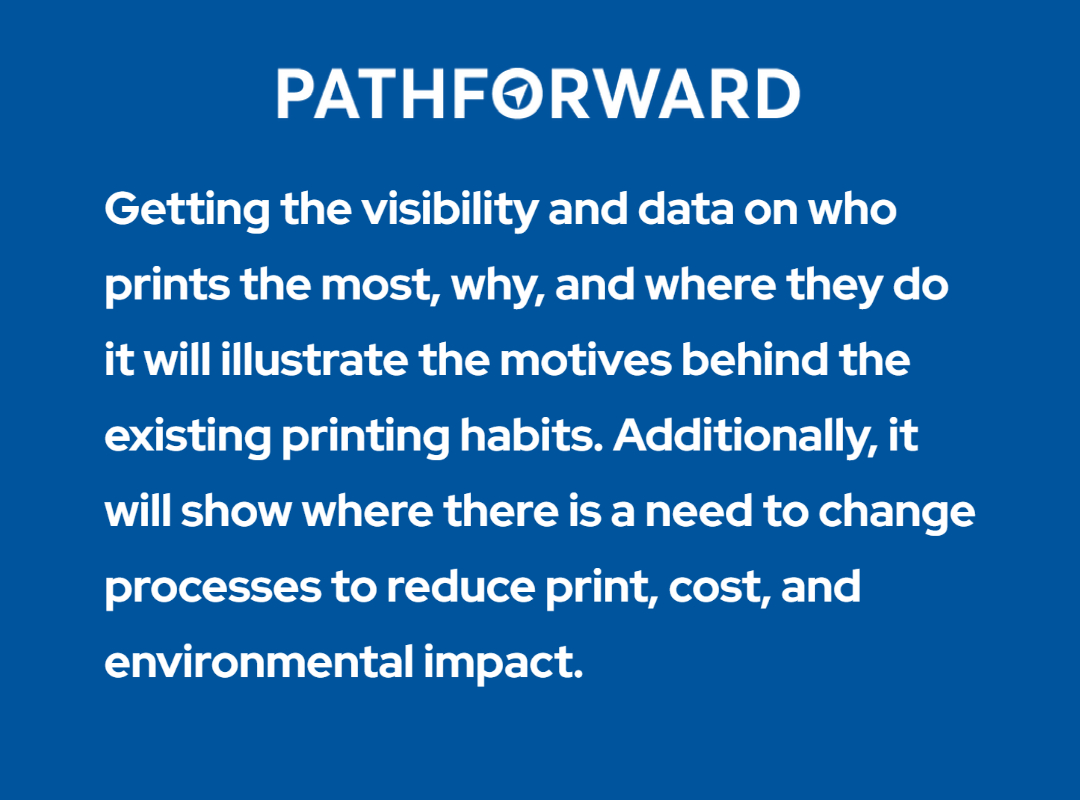 Who
Devices Don't Print; People Do.
While it is true that printers are the devices that physically print documents, it is people who give the orders to print. Consequently, making people more conscientious about their printing decisions is crucial.
It's easy, if you are not managing people, you are not managing print, and if you are not managing culture, you are not implementing your strategy.
To manage print effectively, you must focus on the people who print and the processes that require paper as part of an output. Only by doing this can you hope to change the printing culture and implement your strategy successfully.
Fortunately, software is available to tell you exactly who printed what and where, and most importantly for change is from what application the job printed from, i.e., Word, PDF, PowerPoint, and exactly how many pages were printed, in mono or color, 1-sided or 2-sided, etc.
Why
In most workplaces, printing is a necessary part of doing business. However, it's not uncommon for employees to abuse the privilege of having a printer at their fingertips.
There are two main reasons why people print:
They want to (convenience, habits, or their relationship with paper)
They have to (printed documents as part of an antiquated process or to fulfill government regulations, such as health records)
Printing for convenience represents 40% of total print output, while printing as a required part of a process explains 60%. Think about this:
40% of total printed pages are because people choose to print.
Once you can identify why your team is printing, it will be easier to make decisions and apply the policies and strategies that will regulate and improve the printing culture.
Fortunately, software is available to tell you exactly who printed what and from where, and most importantly for change is the exact application the job was printed from, i.e., Word, PDF, Exchange, PowerPoint, and the job characteristics – how many pages were printed, mono or color, 1- or 2-sided, etc.
Where
Understanding the different places where printing might take place will affect your strategy and the associated costs.
People only print in 3 places:
The office, WFH, or dorm room
The internal production center
With third parties
The cost of printing can be a significant expense, but it's essential to not just spend money without knowing what will work best. Depending on where you plan to continue the process should determine which option is most effective for your own business needs and budget priorities.
"Holistic" or Enterprise Print View
Holistically evaluating the business requirements related to print is crucial for larger companies. These organizations often struggle to determine how many different aspects of their printing needs there are and which ones should take priority, but this isn't as hard if you think about it in terms of the "big picture" first.
For example, if you have a print shop, you must use it, or the fixed costs associated with labor, equipment, software, and space will quickly outweigh revenues.
Therefore, the solution is to de-feature the fleet to drive demand to the print shop – which should be the low-cost, high-security, and fastest option.
You must ask yourself, ''why do employees go outside to print?'' The answer is probably due to a lack of awareness and attention. Maybe the features required are not available in-house. Perhaps they are a frequent traveler, and third-party providers are more convenient. Find the motives, and you'll find a way to adjust behavior.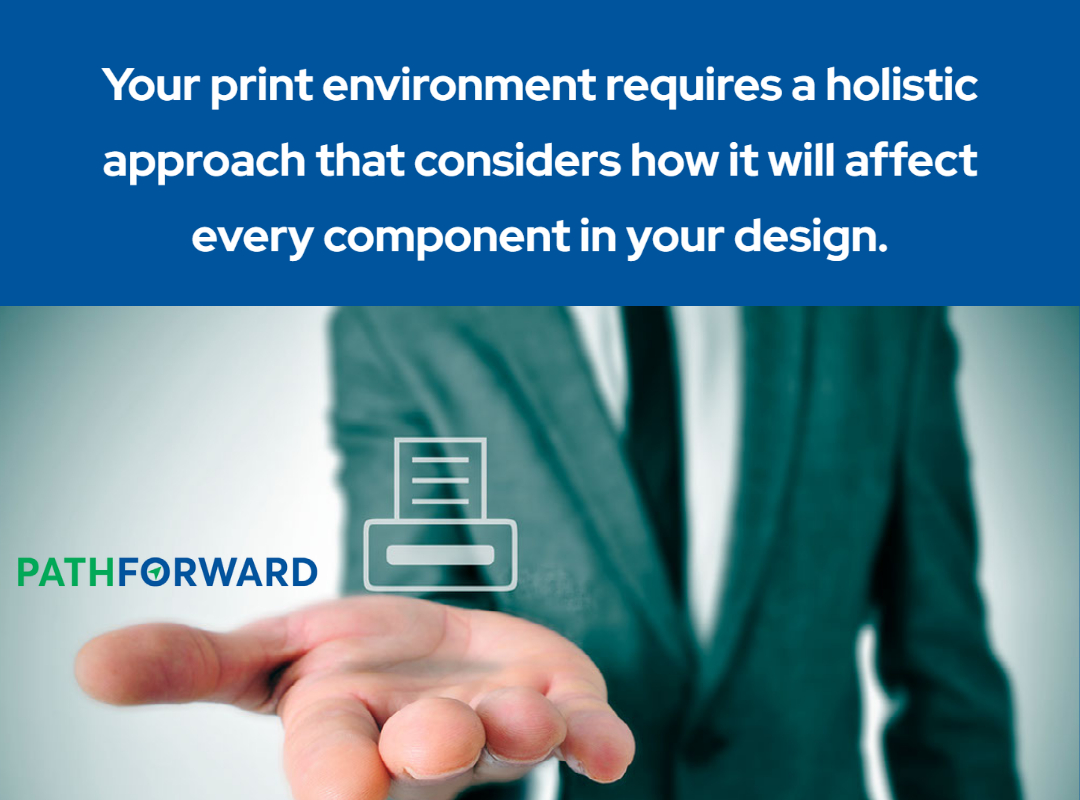 Rather than focusing on high-value print, most internal print shops only receive the more commoditized jobs like business cards, letterheads, non-variable print, etc. Instead, the company should also use them to print higher-margin jobs, like those with more security requirements or requiring a higher service level.
Your print environment requires a holistic approach and must consider every print environment as they depend on one another. One of the most important aspects to consider when designing a print environment is how it will affect every other component in your design. All these little pieces must work together seamlessly.
Take The First Step
If you're not thinking about your print strategy holistically, you may be paying millions of dollars more every year than needed. However, developing a strategy and utilization of fixed assets can lead to an enterprise saving between 35-65%.
If you are interested in these types of savings and driving bottom-line impact, the model below is how and what PathForward does in helping organizations like yours find the best-tailored strategy for their goals, priorities, and requirements.
We have helped organizations like yours save over $750M.