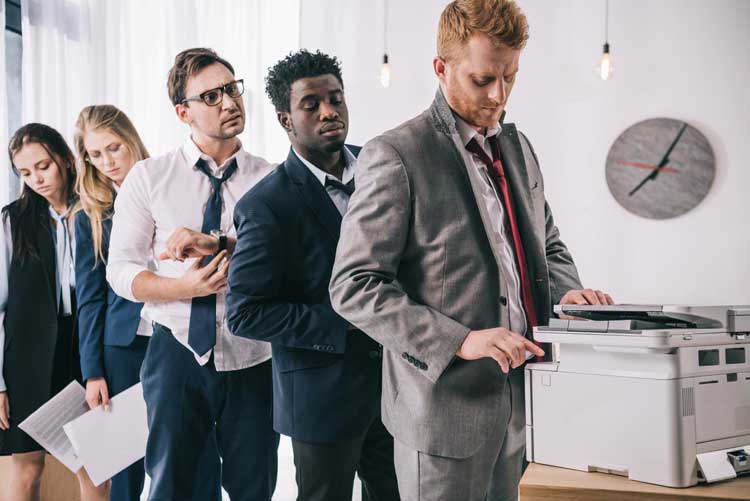 The Enterprise Print Conundrum
Whether it is process-based or rooted in personal habits, print happens.
And it does so in three environments: in the office (or in a student's dorm, or mobile or hybrid worker or work-from-home worker), in an internal production facility (be it a copy center, a print shop, or in a data, print, and mail operation), and externally sourced.
The price an organization pays for not managing print holistically is millions of dollars every year.
Office Print
Print in the office is perceived as FREE. The true costs of printing are not known or closely monitored. Most organizations have 2x the number of devices with an abundance of costly color, underutilized A3 devices and USB-connected printers.
Devices don't print, people do. Too much focus is on the supply-side – should be on the demand-side; Opportunities are abundant to move from paper-based to digital workflows when user data is analyzed.
Users want to do the right thing … they need to know what that is – communications are very important, as is senior leadership modeling desired behavior.
Securing devices creates a virtual 100% uptime; and is the best way to reduce print volumes – no one wants to be on the outlier list.
Internal Print Center
As print jobs are getting simpler, run-lengths shorter, coupled with the ease of printing in the office or from home, volume is leaving the internal print shop.
External providers with 24×7 capacity and an aggressive sales team are pulling work from the office that should go to the internal print center.
Underutilization leads to the company paying for capacity in the internal print center while also paying to print jobs elsewhere
Rule is, if you are going to continue to invest in the internal print shop, you have to use it (or lose it), and find ways to capture work from the outside and clawback volume from the office.
External Print Providers
Externally sourced print lacks: controls, process, brand standards, accountability, procurement software, best practices, and verified benchmarks.
Too many end-users utilizing too many external service providers. P-cards exacerbate this.
End-users who lack awareness get caught up in buying just in case, not just in time increases obsolescence and waste.
Higher than expected change charges and postage/freight costs.