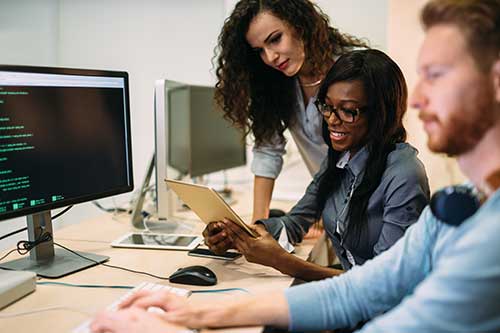 Client 1
Challenge
This Fortune 500 Top 10 Technology Manufacturer issued an RFP to outsource $50M of commercial print looking to improve their cost structure, accelerate time to market, and improve quality while gaining new insights into actual spending by marketing personnel.
Solution
After a 100-day baseline exercise, the largest impact we could create is to innovate and evolve bid soliciting. We built out technology that created a client-only marketplace to streamline and solicit market pricing.
To make an immediate internal impact, we brought in print concierges; colleagues with deep print expertise that would own a project from end-to-end, and provide an experience for marketing heretofore not done.
In addition, we created a culture change to move the teams to more digital workflows with the mindset of print just-in-time vs just-in-case.
Result
With full closed-loop accountability and transparency, rankings by marketing cost-causers, and job-by-job pricing; the vendor pool was reduced dramatically helping us source $2,500 jobs to $250,000 jobs.
We moved roughly 75% from offset to digital virtually eliminating all waste and obsolescence.
First-year hard dollar, six sigma verified savings exceeded 32% with a staff less than half of what it was.
When asked why we were selected, the client said that our RFP addressed each question with compelling clarity and zero puffery or rote about them. This contract is still in place today.
Our Expertise Is Print
Strategy - Sourcing - Software
And Most Say We Do It Best!