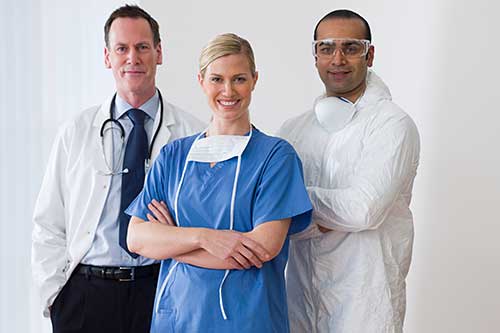 $47M
Savings to Date PLUS an additional $15M expected
Client 1
Challenge
This Top 10 Health System issued an RFI for an "independent" to come in and assess what had been a 17-year print fleet relationship. The client would provide access to a select number of floors for a select amount of time for analysis. In addition to the office print resources, the client had several internal production centers plus an estimated external spend of $35M.
They requested a summary of findings, a strategy, and the total projected savings.
Solution
We shared that we thought the best approach would be to view their print spend holistically, across the enterprise: each of the three areas of print vs just their focus on an annual $7M spend on their office fleet.
Instead of pushing technology to a couple of floors, we provided case studies from 5 other health systems we had completed.
Where others pointed to $2-2.5M of savings from the office, we showed them a way to achieve >$10M per year in savings. Deployed technology across the enterprise allowing this client to stack rank every department in every hospital. This client awarded us the contract straight from the RFI not waiting to go through a full-blown RFP.
Result
We worked together with the client's internal communications team to build and deploy a campaign across the organization. "Do your part" challenged the organization to "think before hitting the print button".
After helping the client write an RFP for the office fleet first, a new vendor was selected that resulted in 50% fewer devices, 37% fewer pages; Five print centers were consolidated to two; External print was rationalized and re-vamped.
Reported savings are $47M to date with another $15M expected.
We wouldn't be where we are today without PathForward and our Print Smart team. Everyone is committed to the program and directly vested in its continual success.
Reduction in Fleet Pricing
Reduction in Fleet Volume (While # of Employees Increased by 50%)
Savings From Internal Production
Client 2
Challenge
This fully integrated health system was formed by two systems joining together that now represent 9 in-patient hospitals and more than 100 urgent, out-patient, and specialty clinics that continue to expand geographically.
When two major systems come together the outcome was as one might expect – too many different suppliers, too many devices, most lacking utilization, and very high costs. This was true for the combined office fleet even though their internal print shop was outsourced to one vendor.
Solution
PathForward was hired on two back-to-back engagements, initially to help with an office fleet RFP that had already been issued; and the latter to help build a strategic plan to shift from an outsourced onsite print shop to an outsourced off-site location that could also handle commercial print work.
PathForward immediately set out to build a baseline and benchmarks and help identify what they had, what they spend, and what could be possible.
Simultaneously, PathForward worked to decipher the RFP responses and build a scorecard so each of the fleet respondents could be evaluated objectively with a level playing field.
Result
Once the client made their selection, PathForward worked side-by-side to negotiate and finalize a contract that lowered pricing by 40.5%.
Then, approved the design for each location based on fewer devices, and desired utilization and color rates to deliver $1M savings in year one, and close to $7.8M over the last 5 years.
Total fleet volume has been reduced by almost 35% while the number of employees printing has increased by more than 50%.
As the fleet implementation rolled out, it was balanced by using new devices with existing devices with remaining useful life. With success, the client adapted the PathForward holistic approach and shared the next big problem of closing a building that housed the internal print shop while finding a new way to improve sourcing and work with fewer, more capable vendors.
With over 2 years remaining with the incumbent outsourced provider, we worked with the existing vendor to find an alternative location. PathForward also went to work at understanding just what this print shop had, how it was being used and took a disciplined approach at dissecting the invoicing.
Not only was this client grossly oversold – a half-million-dollar digital press that barely produced 75K of color each month – but there was an equally grossly high charge for labor.
Once the incumbent was unable to do what was asked, we studied the local market, queried several competitors, and found a superior solution with a new vendor that would save the print shop more than 41.6% and save more than $500K per year – and have them moved to a secure location offsite!
The hardware vendor made the introduction to the offsite third party. PathForward led the negotiations and the client agreed to centralize all commercial print sourcing saving another 20.5%.
Together with the fleet savings, this client saved over $10M!
Keith is one of the most dedicated, responsive, and professional people I've had the fortune to work with. His passion to bring his projects to execution is unparalleled. Thinking outside of the box with PathForward proved to be one of the most exciting experiences resulting in outstanding collaborations. He has always been an incredible team player and I highly recommend PathForward for any project.
Our Expertise Is Print
Strategy - Sourcing - Software
And Most Say We Do It Best!